Description
Vintage 14″ X 22″ on site poster for the bout between Bill Brennan (a.k.a. Bill Shanks) and Homer Smith on Nov. 4, 1916. Brennan had 102 fights with greats such as; Billy Miske, Angel Firpo, Jack Dempsey (2), Harry Greb (4), and Battling Levinsky. Homer Smith, a solid heavyweight, Â fought greats such as; Jack Sharkey, Jack Dempsey, Harry Greb and Jack Johnson.
Billy Brennan owned a bar/nightclub in Manhattan. He allegedly ran into business trouble with the mob. He supposedly refused to work with them and on June 15, 1924 he was murdered in his own nightclub. He was 30 yrs. old.
This poster is in fair condition with paper loss on corners, a 1 3/4″ tear on top center border, a 2″ tear on bottom right border and a small chip on left border.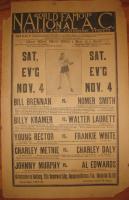 For more information call this number (347) 466-1932[/fusion_builder_column][/fusion_builder_row][/fusion_builder_container]